Smart

trading
Traders are actively seeking the best possible solutions for effective trading and smart crypto investments. We want you to make use of the most powerful equipment. Therefore, we developed and combined our proprietary features and tools in one platform to simplify the monitoring, holding and trading of crypto assets. The outstanding user experience of the DXone platform will be beneficial for crypto traders of all levels of experience - from beginners to advanced to professional.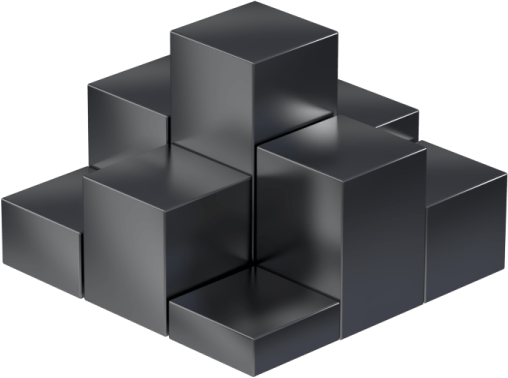 Professional charting
Your DXone trading chart comes with a full bundle of features and indicators so you can adapt it to your personal requirements. Choose your favorite indicators from an extensive list - each single one is individually customisable to your preferences in order to create the perfect overview for you.
This is an exchange built for the future.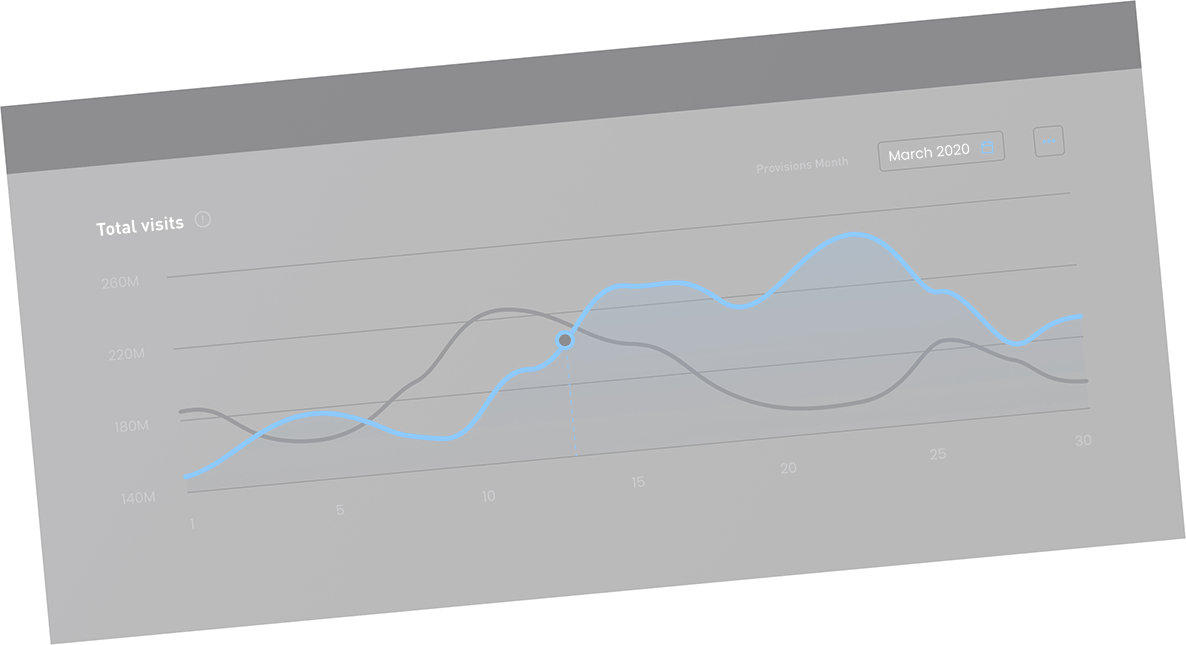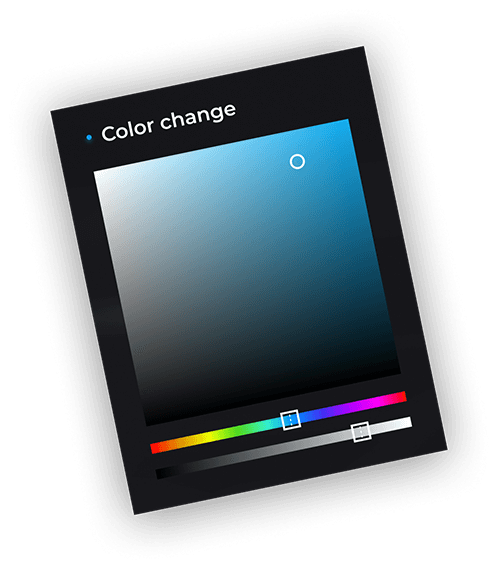 Advanced Order ticket
We make trading handy by offering easy-to-understand order features. The widget is kept simple and clear, but still includes all important and useful functions. Do you want the order tickets always ready to use? Feel free to easily add them to your personal dashboard by using our widget library.
Enjoy trading with highest efficiency - quick and trouble-free.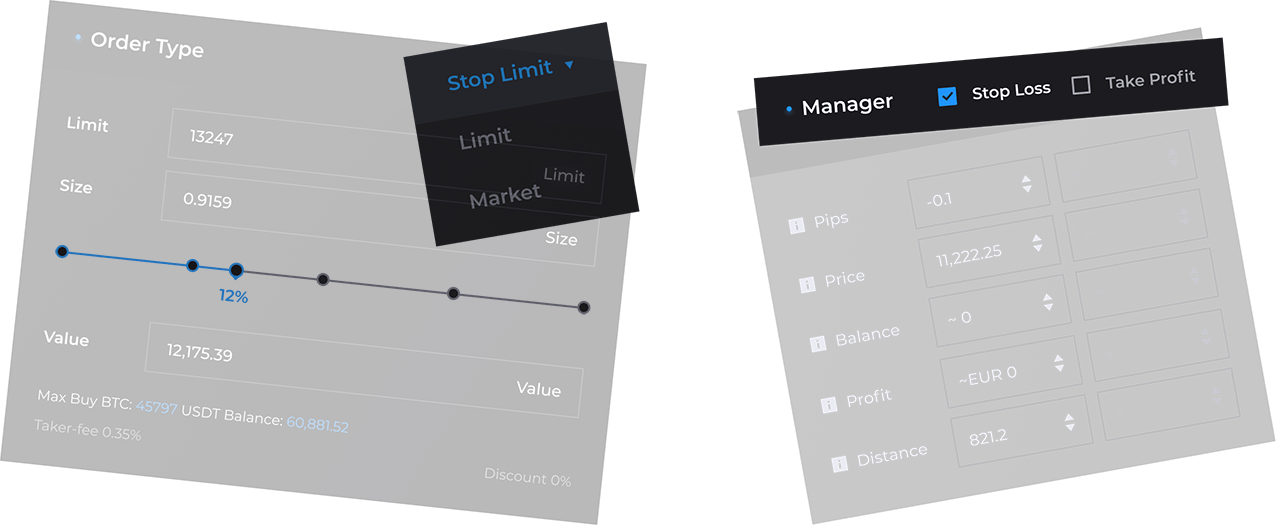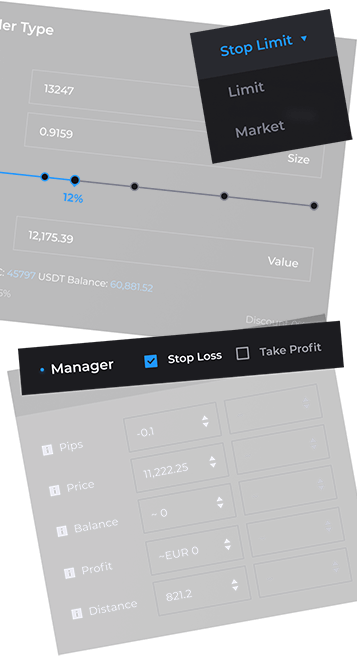 Powerful platform
Try our all-in-one solution and start smart trading! The DXone exchange contains a broad spectrum of personally modifiable tools for your individual trading success. You want to learn more about our advantages? Become a member of our powerful community now or explore our outstanding features.
Global

Research
Trading with DXone includes data from 21 exchanges available with an ultra-fast API in real-time. Adding additional data feeds from over 60 more exchanges are currently in preparation. Initially, DXone focuses on the research of the established exchanges with the largest transaction volumes, as these are crucial for in depth research and smart trading decisions. With this data we calculate a volume aggregated price (The Allex), which reliably determines the actual price which can be executed on the market.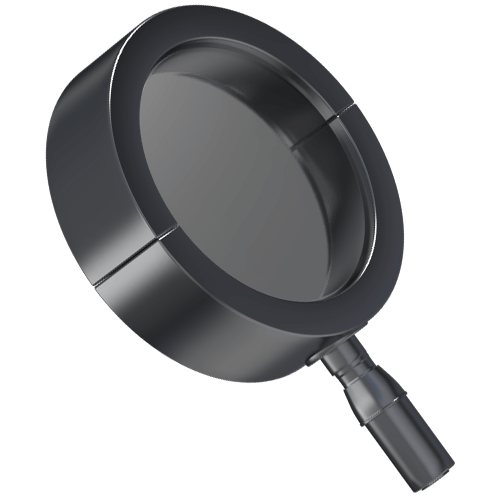 ALLEX + browse of other exchanges
Our ALLEX feature provides a multitude of different analysis functions that are linked to the largest exchanges. One of the most outstanding benefits using ALLEX is cross-pair monitoring. Take advantage of the opportunity to put several charts on top of each other and be able to examine the behaviour of different coins in greater detail.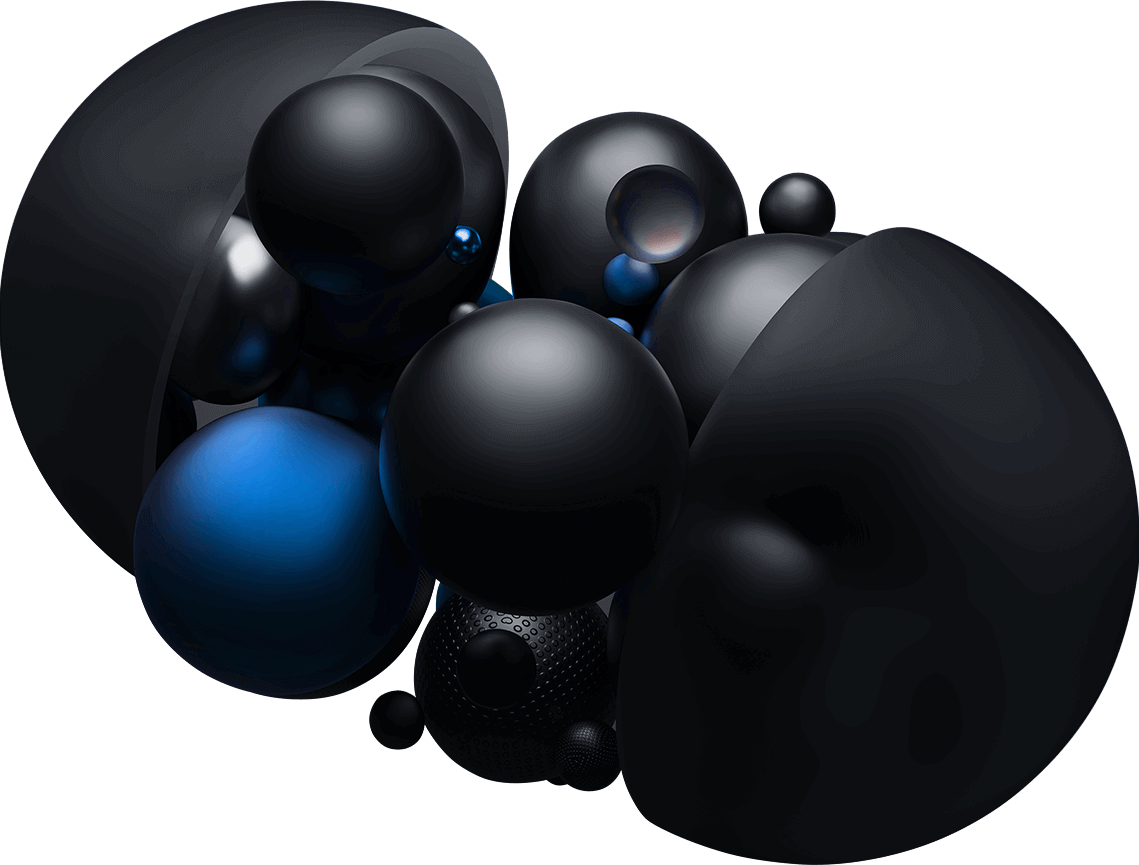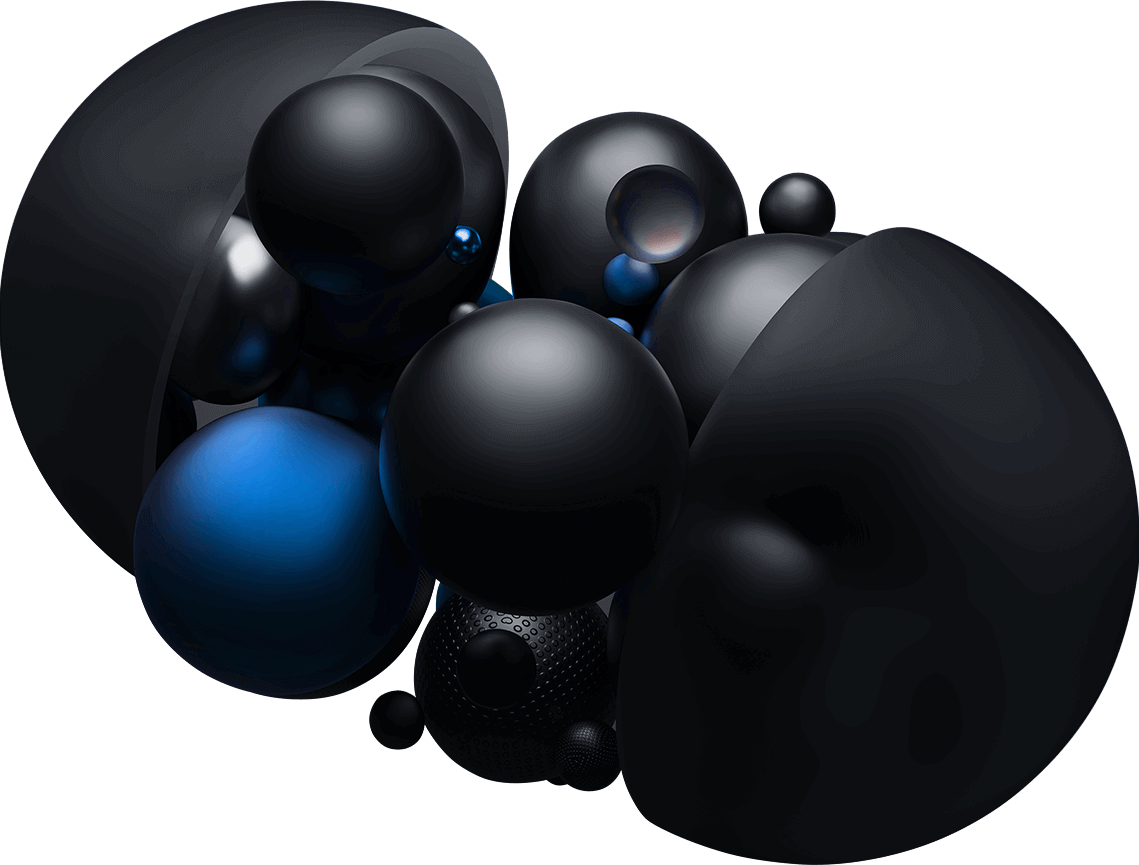 Professional trading decisions
Using the DXone platform you will have all the information available that you need in order to execute perfectly researched trades. No additional paid websites for analysis are needed - find your all-in-one solution with DXone.
Custom

Dashboards
Your DXone trading, research and analysis service dashboards come with deliberate default settings, ready for immediate use. If you prefer working in a more individual environment, feel free to customise our pre-designed dashboards or build your very own trading dashboard from the ground up. Sign up and create your own workspace - your DXone exchange is what you want it to be.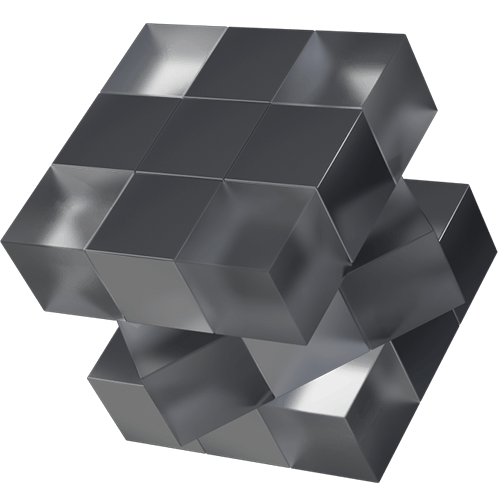 Various layouts
We make customizing your dashboard easy for you. Approach your personal trading environment step by step. Start by choosing one of our ready-made layouts and adapt it to your preferences. Are you looking for something structured with grids and lines or for a more flexible design? Simply select the most suitable layout and start trading!
Select the right layout for your workspace
Grid Layout
A grid-like structure with widgets in a scrollable webpage.
A grid-like structure with widgets in a scrollable webpage.
Flex Layout
A tabbed frame based layout with resizable frames to add widgets into one single screen.
A tabbed frame based layout with resizable frames to add widgets into one single screen.
Windows Layout
A floating window layout where widgets can be placed anywhere on your screen.
A floating window layout where widgets can be placed anywhere on your screen.
Custom widget builder
The Dxone all-in-one platform is your solution to assemble your own personalised tools for research, analysis and trading. Utilising our custom widget builder is simple. Just choose any widget you want from our widget library, which works similar to an app store. This process enables you to easily implement useful tools in your own dashboard. It will save you a lot of time for what really matters: successful trading.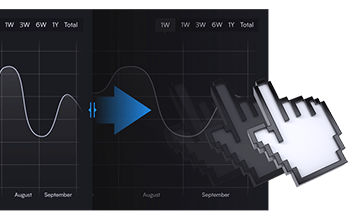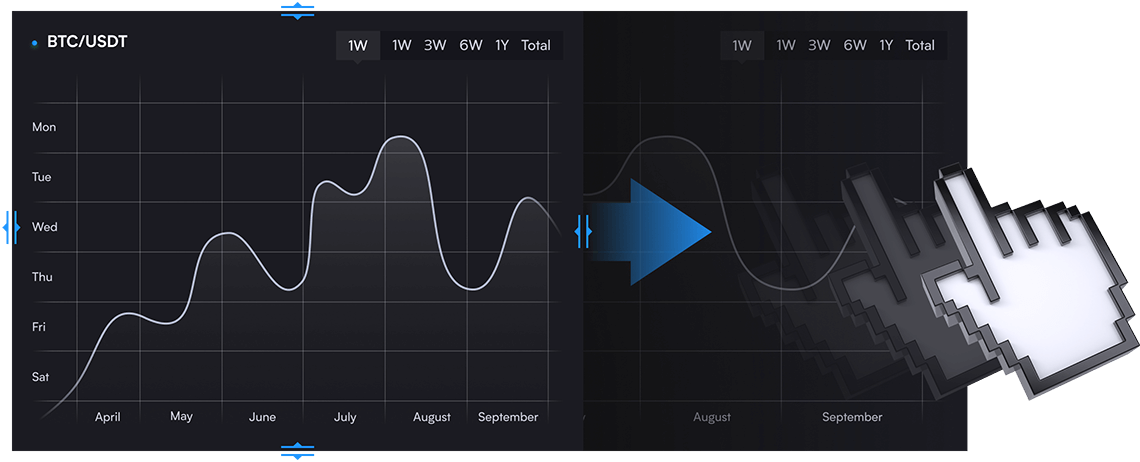 Workspace sharing
Our traders are brilliant minds creating exceptional customised dashboard solutions. And we want our entire community to benefit: That is why creators can share their individual dashboards with other users. You can also import external workspaces. Take your chance!
Comprehensive Parenting
Our platform allows you to connect different, interdependent widgets with each other. It is also possible to switch data from one widget to another suitable widget using our connectivity feature.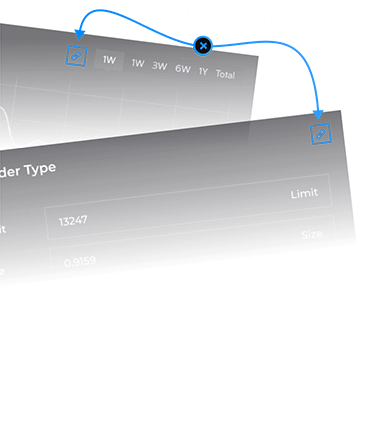 Your productive trading environment
What is essential for you, is that the entire DXone trading interface is extremely user-friendly and can completely be adapted to your personal trading requirements. That saves you time to focus on highly professional trading. Experience the advantages first hand and join the DXone community.
Investor

Dashboard
Our security token (DX1S) is a transparent crypto investment product. The purpose of DX1S is to generate revenue through monthly payments as part of an attractive passive income - owning DX1S grants you a part of 25% of all revenue generated by DXone. These dividends are paid out monthly in cryptocurrency directly to Security Token Holders' wallets. As a holder of DX1S, use your Investor Dashboard to obtain an overview of your held DX1S tokens and to keep track of the tokens' performance - the decisive factor for monthly dividends for your passive income.
DX1S & DX1U Trade
Additionally to the possibility of investing in DX1S tokens you can earn DX1U tokens as incentives for your high trading activity on the DXone platform. Receive special discounts on your trading fees for holding DX1U tokens.
Be part of it.
Keep track of your investments.
Check your trades.
Trade with other investors to increase your tokens.